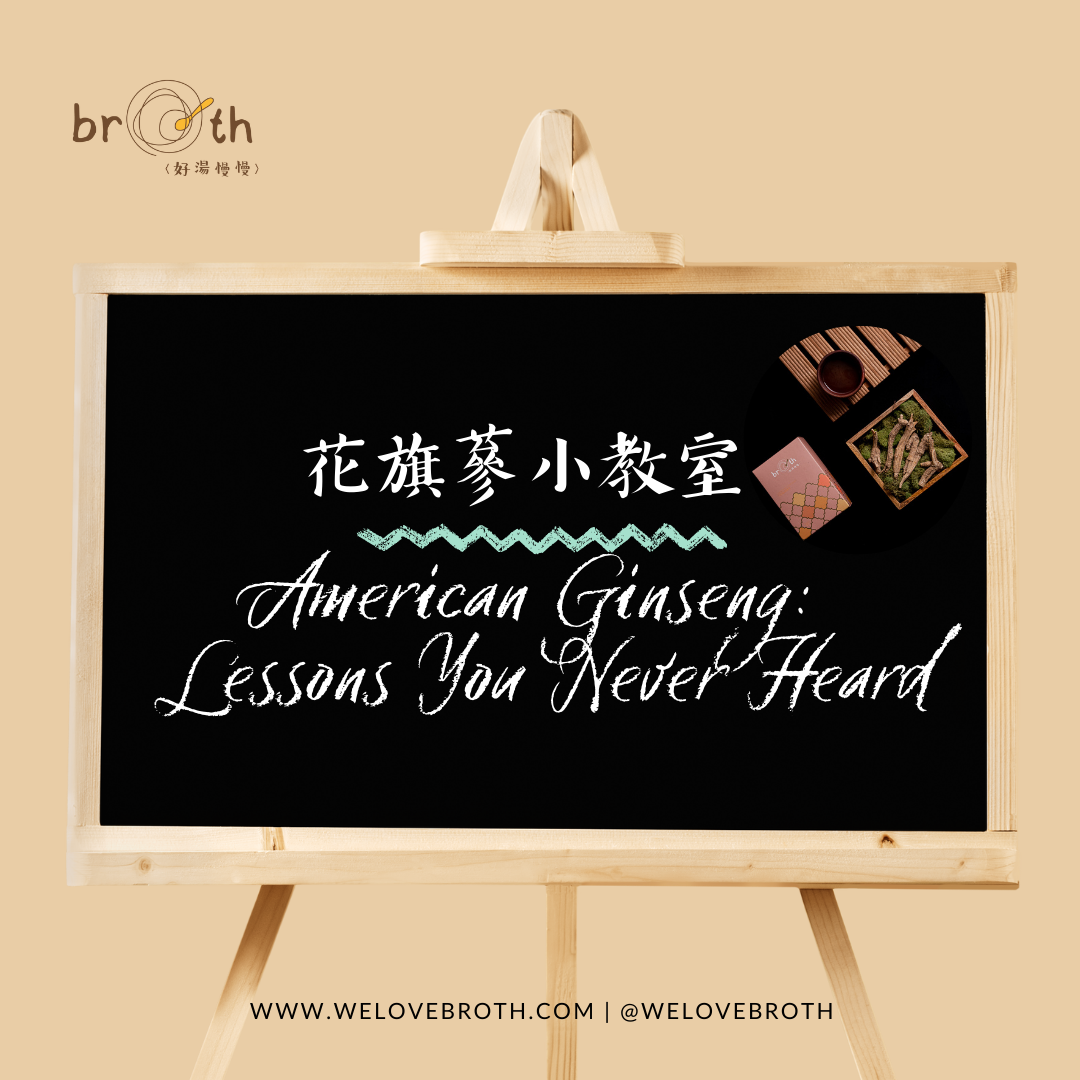 American Ginseng: Lessons You Never Heard
Before we start learning about American Ginseng Chicken Essence, let's talk about the origin of American ginseng.
Wild American ginseng originally grew in the Northern American historic forest with a name as the living fossil.  It can be consumed medically, can be used as an herbal remedy, and can be used for cooking; its unique property allowed one to have increased appetite.  While American ginseng is in the same araliaceous family with other ginsengs, but its medical property is vastly different.
American ginseng (Scientific Name:  Panax Quinquefolius) is a type of ginseng, with a name based on the old name the Chinese gives to United States, grows in the area around the northern part of United States and the Southern part of Canada, especially in Wisconsin state.  Impacting by the local weather and ground property, the American ginsengs from Wisconsin have distinguished horizontal vein, with a bit of bitter, yet earthy taste; the slight bitterness exhumes the dense amount of Ginsenosides the ginseng contains, which benefits greatly to human body.  American ginsengs from Canada, on the other hand, don't have the bitterness taste, but its amount of Ginsenosides is slightly inferior.
The market would have you think that its American ginseng comes from Wisconsin, but in reality only five percent of the market is grown in Wisconsin. Wisconsin American ginseng production is not much but the ginsengs there are precious.  Why is Wisconsin American ginseng so much better?
Wisconsin state situates 45 degrees north of the equator.  Summer is beaming with chill air, while winter turns water to ice.  American ginseng would be planted in June during summer; as ginsengs are not favorable to excessive hot weather, they will be protected under shelter in the summer.  In fall, the fallen leaves would provide natural protection.  Once winter is coming, besides falling snow maintains the ginsengs' humidity, American ginsengs would also grow next to Maple trees as natural barriers.
Wisconsin has over ten types of soil, and only two, three types are suitable to grow American ginseng.  The state being at 45 degrees north received fertile black soil from the north since ice age, giving the ground full of nutrient, with many trace elements and minerals, especially Radon, which is best fit to grow American ginseng.  These soils, in a sense, are able to grow the most potent American ginseng.
In order to give back to the customers, Broth Inc. uses only American ginsengs from a famous American brand, which grows all their ginsengs in Wisconsin, to ensure its quality is up to standard.
Only 5% of the world production comes from US
While the market is saturated with American ginseng, real Wisconsin grown American ginseng is very rare, but this scarcity will reflect on better quality
Three to five year harvest period
It is not easy to grow high quality American ginseng, not only does it need to grow in places where other plants have not previously grown, it also requires at least three years to mature enough for harvest.  Broth Inc. selects American ginsengs that are four to five year old, ensuring its nutrition is further ingrained.  
Cleaner than vegetable, and can be eaten raw
Broth Inc uses American ginsengs that pass FDA and USDA inspections.  The production and processing plants are also certified by GMP.  Guaranteed to have no chemical residue, these ginsengs are cleaner than vegetable, and can be eaten raw.
After hearing about all these American ginseng origin stories, do you want to quickly try Broth Inc. brand new American Ginseng Chicken Essence?  Can't wait to have you here ~
Next time we will discuss the benefit of American ginseng to human body, please subscribe to our newly designed newsletter.